The right lawn for shade
Author: Stefan Palm Date Posted: 29 March 2022
What's the best lawn for shady areas? Its and interesting topic and one that lots of people have to deal with.
The answer lies in how much shade you have and the purposes for which you are wanting a lawn. Even trying to describe how much shade you have can be tricky and often confusing. In our shop, when trying to understand how much shade a customer has, we ask the following question, "How many hours of sun per day would you get in the shadiest position in your lawn?" By sun, I mean direct, unfiltered sun. As soon as it's dappled, you would consider this shade. It might take a bit of time to answer that question – you might have to spend a day paying special attention to where you are going to plant. If you know you have some potential shade issues and you want to plant a lawn, it's definitely worth the effort in discovering the answer.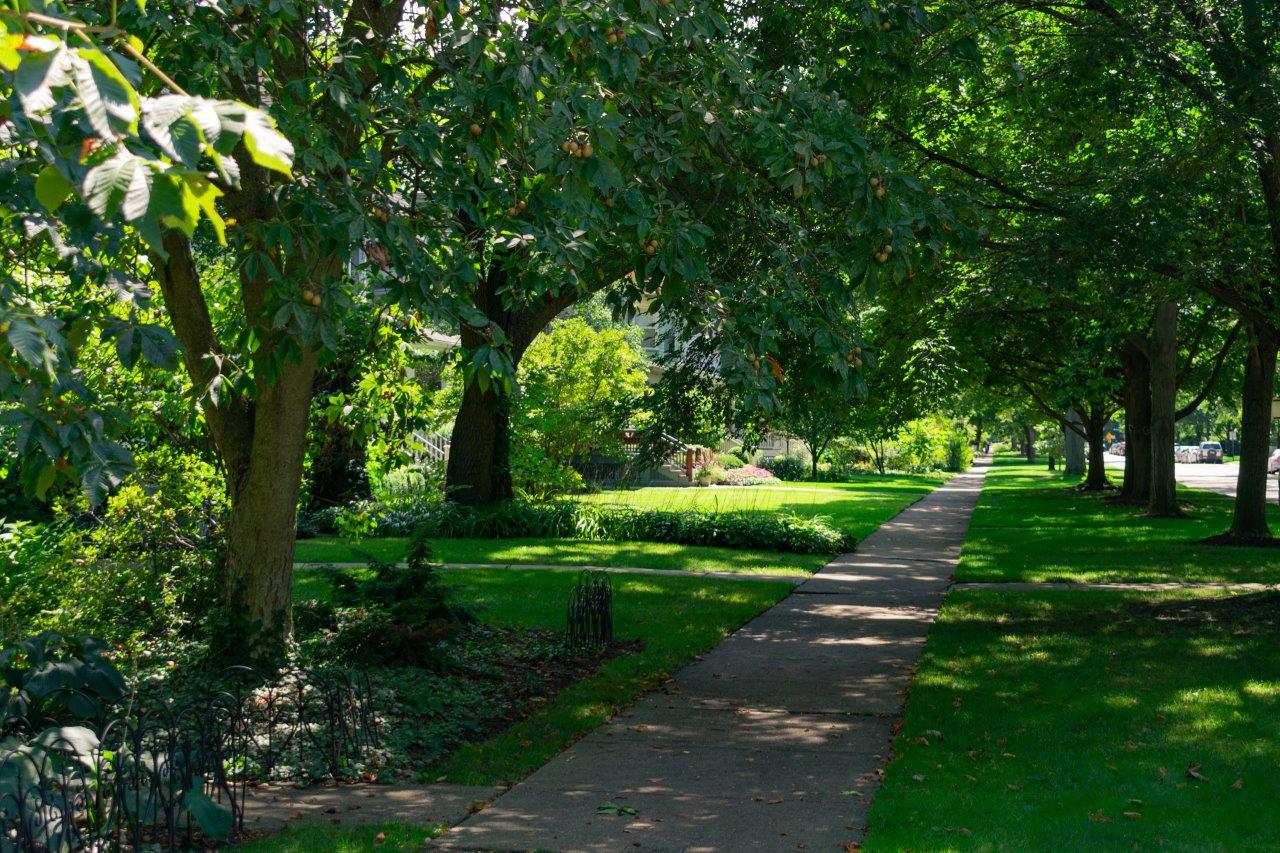 The next question is, "what do you want to do with it?". How you intend to use the lawn is an important consideration when choosing a lawn for shade as shade-tolerant lawns can often be the types that are not particularly hard-wearing. If you had a pet, for instance, you'd want to make sure your lawn could tolerate both shade and hardwearing traffic.
As a general rule, if you have more than 5 hours of sun per day, you can plant almost all varieties of lawn in South Australia such as couch, kikuyu, buffalo, tall fescue, rye etc. If you get less than 5 hours of sun per day, your options decrease as at this point you are starting to get into shady territory. Lawns like couch (Santa Ana, Windsor Green,) and kikuyu (Sterile, dwarf, Kenda) really need more than 5 hours per day of full sun to thrive. I wouldn't push these boundaries either because if you plant sun-loving grasses in shady areas, they won't thrive. That leaves lawns like buffalo, tall fescue, fine leaf rye and even ground cover lawns like Dichondra repens.
Tall fescue, fine leaf rye and Dichondra are the most shade tolerant. They will grow in environments with very little sun however keep in mind that these lawns are neither drought-tolerant nor hard-wearing. They are more for ornamental purposes or for areas that won't get used much. They should be avoided if you have a significant amount of traffic or a dog as they are not self-repairing and do not tolerate dog urine.
If you intend to subject your lawn to more traffic like sport, pets and family fun, then you'll need something a little more hard-wearing. Soft Leaf buffalo such as Kings Pride may be the answer. It's not as shade tolerant as tall fescue and fine leaf rye but it is more hard-wearing and more drought-tolerant thanks to its self-repairing nature. I'd recommend you have at least 3 hours of sun a day at a minimum to plant buffalo. Any less and it will less hardwearing and be slow to repair.
I have to say here that high traffic and shade is the most difficult combination for a lawn and if this sounds like you, then you may have some more chin-scratching to do. The shadier the area, the slower a lawn will grow and the less resilient it will be. I have seen many people plant buffalo only to see it fail because of excessive shade and excessive traffic. High traffic lawns in the shade have to be managed. By that I mean, if you notice it is wearing out and not recovering, you may have to limit traffic or rethink areas that are thoroughfares.
There are situations where high shade and or high traffic may mean natural lawn is not a viable option and in these circumstances, you will need to either think hard about how you expose your lawn to traffic or think about other options like synthetic grass.
What are your best options for shady environments?
Good shade tolerance.
Available in turf
Pet tolerant
Can be planted year-round although September to May is the best time of year
Is self-repairing
Excellent shade tolerance
Available in seed and turf
Is not pet tolerant
Can be planted year-round
Is not self-repairing
If you have a shade related lawn enquiry, give us a call on 8298 0555 or send an email to info@paulmunnsinstantlawn.com.au.
---
Comments (8)
Santa Anna

By:

Scott KENNEDY

on 21 October 2021

Please ... We have a LOT of Santa Ana couch in our lawn ... but it doesn't work in the shade :-) What can we grow in the higher shade areas. Can you give two options: 1. NO traffic 2. 'Possible' Traffic ?????? (Price/Quantity/Etc will avoid a second email) BR





Paul Munns Instant Lawn Response
Hi Scott Thanks for your enquiry If you want to keep the Santa Ana and put in a shade tolerant lawn amongst it, you could over sow with a fine leaf rye grass which will take up to 70% shade Or you could plant some Buffalo in there but it would look different to the Santa Ana. Buffalo would still require at least 3 hours a day of direct sun. All pricing is on our website. Thank you
---
Part Shade Part Sun

By:

Ashleigh

on 10 September 2019

Hi There, I am about to turf my newly built home and just trying to decide whats best to use. I have a 62ms rectangle patch of area to be turfed, however a 2m strip of area is constantly in the shade due to the positioning of the house. I would like to find a lawn that is tolerable to shade and sun or would it be best to just pave that shaded area and turf the rest which does get good sunlight? If so, what turf would you recommend? I live in Perth, 1km from the beach and area will be used for pets, kids and outdoor activities.





Paul Munns Instant Lawn Response
Hi Ashleigh Thank you for your questions For full sun, pets and kids we recommend Kikuyu varieties. They are the most hard wearing and are also very drought tolerant. In that shaded spot I would recommend paving that area because if you put in a shade tolerant lawn such as Buffalo it will more than likely struggle as they aren't as hardy and take longer to recover.
---
Advice on the best lawn to plant for my situation.

By:

Suzanne Kasprzak

on 21 August 2019

Can you advise me please. We live in the Erindale area and looking to plant a lawn in an area that has 3 hrs of sunlight in summer and none in winter. There is also a dog. What would be the best lawn to plant?





Paul Munns Instant Lawn Response
Hi Suzanne, This is a really tricky situation. Dogs and shade is the most difficult combination for a lawn. Buffalo has the best shade tolerance and has some pet resistance however because the sunlight reduces to nothing during winter, you may experience some difficulties. When you have a moment, give me a call so we can talk through some options. Regards, Stefan
---
Drought and shade toleran

By:

Elizabeth Huggins

on 16 August 2019

Good morning, I have a tree lined drive and the grass has all died underneath....my fault as we planted couch . I live in South West Queensland so we get very hot temps in the summer and occasional frost in the winter. The area is not used for pets nor children. The amount of shade would probably be at the very most 3 hours per day as the drive is in the middle of the sun's rise and setting process. Meaning one side of the tree lined drive has sun whilst the shade is on the other and as the sun travels then the opposite side of the tree lined drive then gets the shade. Some parts are dappled as well all day. I can see that the Tall Fescue or fine leaf rye would be an option but then they are not drought tolerant either ....so I'm in a quandary as what seed to buy. Any help would be greatly appreciated.





Paul Munns Instant Lawn Response
Hey Elizabeth, Thanks for your inquiry. Sounds like a tricky situation. Couch grass needs a minimum of 5 hours per day of direct sun (note that dappled sun is considered as shade) . If your area gets this, then your issues are not shade related. I would recommend you give me a call to discuss - I'd be happy to help you through discovering what the issues are and how to solve them. Regards, Stefan
---
Pepper tree and big gums

By:

Alli

on 30 December 2018

I have clay soils and pepper trees and gums nearby the area (2 metres away) I wish to put lawn in Gawler area. Lawn will get about 5 hours sun in winter in shadiest part (trees are on opposite side so they don't shade the lawn hardly at all) There will be a fair bit of litter from gum nuts and pepper tree leaves etc. It is a smallish zero traffic area (no pets, no kids, and have pathways for foot traffic) in front yard approximately 10 x 8 metres. My main priorities are lush green look and not too thirsty (although I have some rain water back up). What do you suggest please?





Paul Munns Instant Lawn Response
Hey Alli, The best turf for shaded areas is Kings Pride soft leaf buffalo. It still needs some sun but will get by on a minimum of 2 hours per day. I can also say that soils under eucalyptus trees can become water-repellent which is not good for lawns. Any time you plant lawn around native trees, I'd recommend applying a liquid wetting agent from time to time during the summer to help overcome repellency in the soil. Your lawn will love you for it
---
Best grass

By:

Jan

on 13 November 2018

I am looking for a grass that is in a shade area maybe 3 hours a day of sun. It needs to be drought resistance and their is no foot traffic.





Paul Munns Instant Lawn Response
Hey Jan, I recon the right lawn for you is Kings Pride Buffalo. Its the most drought tolerant and hard wearing lawn you can get for shade Regards, Stefan
---
Lawn area in shade all day

By:

Chris Mulroney

on 7 November 2018

Hi there! I have a client whose buffalo/kykuyu mix lawn grows exceptionally well where it recieves sun through all daylight hours however, a 1.5 metre wide strip is sheltered from ANY direct sun exposure. Over the past two years it has died off and I have NO idea how I can regrow a lawn that can functiuon without direct sunlight. Any help will be apopreciated. Cheers and thanks for your advice.............. It is a low traffic area........





Paul Munns Instant Lawn Response
Hey Chris, KIkuyu has no shade tolerance which is why it has died off in the shady area. Soft Leaf buffalo is more shade tolerance but will still need a couple of hours a day of full sun. If your area gets no direct sun at all, the only option you would have would be to seed or turf the area with Tall Fescue. Tall fescue isn't drought tolerant or hard wearing but it is very shade tolerant which is what you need
---
Leave a comment