Kenda kikuyu review
Author: Stefan Palm Date Posted: 28 April 2021
Are you looking for an incredibly drought tolerant and hard wearing lawn? Kenda Kikuyu is the ideal lawn to handle all kinds of wear and tear - whether it be large dogs, active kids or backyard parties and it's ideal to lay now and right through Winter.
For homeowners keen on a good coloured tough lawn, Kenda Kikuyu has the best winter colour of all the warm season turf types – even better than other Kikuyu turf varieties. Interestingly, Kenda's Winter dormancy period is shorter as well meaning it will still actively grow into late Autumn. Kenda is an efficient water user and highly drought tolerant making it an ideal choice for areas with low rainfall or council water restrictions. Behind this soft to touch and underfoot grass, is Kenda Kikuyu's dense fine-medium leaf which makes it ideal to play and lay on.
Key Features:
Excellent year round colour. Deep dark green colour during winter
Dense leaf which is soft underfoot
Superior wear tolerance
Fast recovery rate - ideal for high traffic areas
Low allergenic characteristics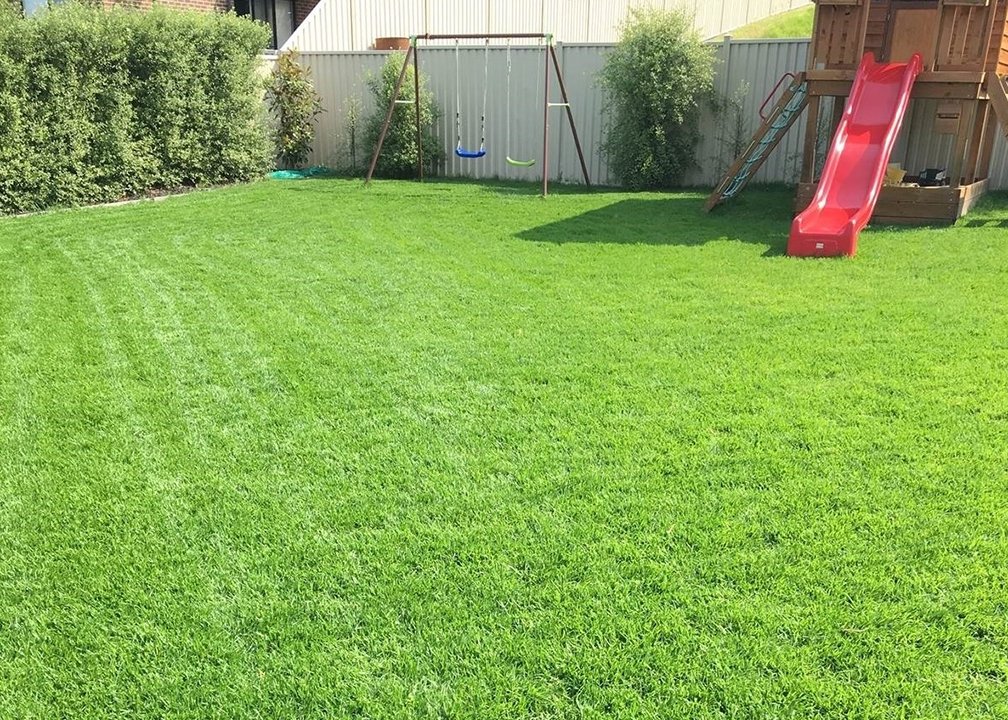 Drought Tolerance
Due to its large prostrate runners and excellent growth rate, Kenda Kikuyu copes well under drought conditions. With water restrictions and hot weather becoming an issue across much of Australia, Kenda grass is an ideal choice. After dry weather, Kenda grass quickly re-establishes once water is available making it perfect for homeowners in areas where water restrictions are often enforced.
Wear Tolerance
Kenda Kikuyu's strong root system grows quite vigorously resulting in a lawn that establishes quickly, is incredibly wear tolerant and has an excellent recovery rate. In fact, Kenda grass is the only turf variety to have extra-large prostrate runners and four times as many rhizomes compared to other Kikuyu varieties, making it incredibly wear tolerant with an excellent recovery rate.
Bright green year-round
Kenda grass is a tough lawn and still has the added key feature of being bright green. Kenda turf also has a greener colour than regular Kikuyu and will stay green during Winter as long as it is maintained.
Soft to the touch and underfoot
Kenda Kikuyu's dense green leaf is what makes it soft to touch underfoot and an ideal surface for kids and pets to play on.
Less spreading and allergenic symptoms
Common Kikuyu and seeded types regularly produce viable seed which spreads into places you don't want (such as garden beds) and the seed heads can also cause problems for allergy sufferers. Kenda is bred to be sterile and produces minimal seed heads. This reduces its likelihood of invading surrounding properties or causing problems for allergy sufferers.
Kenda Kikuyu FAQ's
How fast does Kenda grow? Kenda Kikuyu grows more horizontally than vertically, meaning it will be a smaller height than other Kikuyu lawns when unmown. During the summer months it grows faster if left unmown.
Will Kikuyu grow in the shade? Kenda Kikuyu will grow in low to moderate shade sites but, ideally likes full sun conditions.
What is the best time to plant Kikuyu? The best time to plant Kenda Kikuyu is anytime – but springtime is recommended for effective establishment.
Can Kikuyu turf be laid in winter? Kenda Kikuyu can be laid during the winter but due to cooler months may be slower to establish.
How often should you water Kikuyu? Water your Kenda grass when wilting can be seen in the leaves – usual every 7-10 days in the summer and much less in cooler months.
What does Kikuyu look like? Kenda Kikuyu has a bright green colour with a fine to medium leaf blade that is very soft to touch.
What is the best length to cut Kikuyu grass? The mowing height for Kenda Kikuyu will vary from 20mm-50mm in sunny/lightly shaded areas and 50mm-70mm in heavier shaded sites.
What type of grass is Kikuyu? Kikuyu is a perennial favourite for lawns throughout Australia and is renowned for its strong green lush growth, drought hardiness and wear tolerance.
---
Leave a comment