DIY Sprinklers
Author: Stefan Palm Date Posted: 2 May 2023
A watering system is an important consideration for anyone with a lawn, and you may be surprised at how easy it is to install one yourself, even if you've never done it before. DIY is a great way to go, and it will save you big $$$ in installation costs!
Coming into Winter, it could seem an odd time to be talking about a sprinkler system, but in our experience, projects like this can take a little bit of planning and research, and so if you're thinking about putting a system in now or into next Spring, it's a great time to start thinking and processing how you might go about it. We specialise in DIY installations and have a skilled and experienced team available at our store and online to help you through your project and not just in the planning stages. We'll be there to answer questions and solve any problems you might have as you install and set your system up.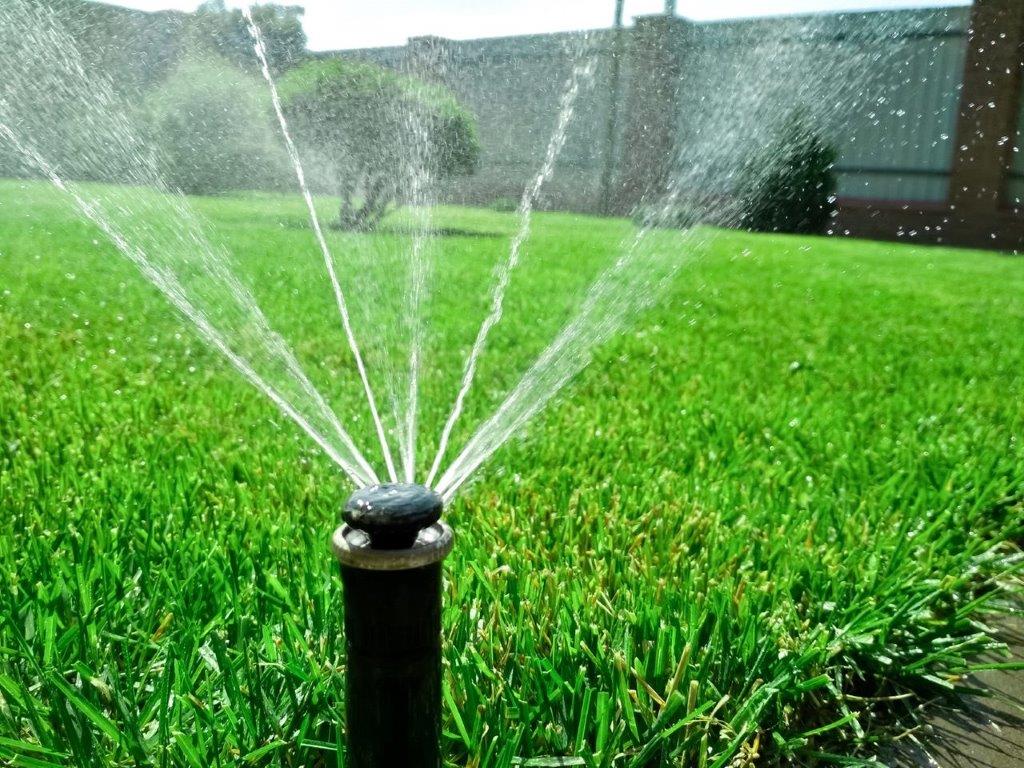 Much of the time, when our customers tell us about problems they are having with their lawns, it can be traced back to water-related issues. When water isn't applied evenly and regularly, especially during the warmer months, lawn quality can begin to fade. While lawns like couch, kikuyu and buffalo have varying levels of drought tolerance and will survive dry periods, they won't look good in the process. In Adelaide's temperate climate, in order to maintain a green lawn year-round, you'd want to be applying about 25mm of water once per week from the months of October through to April. While weekly watering may be as simple as turning on a sprinkler on the end of your hose, most of the time, it isn't that simple, and it's the lack of simplicity that trips a lot of people up. When you first install your lawn, you'll no doubt find it easy to be diligent to keep on top of watering, but as time goes on, the thought of having to move a sprinkler around your front and back yard will become something of a drag which will probably lead to less frequent watering. To fill the picture out, most people would rather be doing something else on a Saturday than moving a sprinkler every half hour. As I mentioned earlier, this isn't the end of the world for drought-tolerant varieties, but it will come at the expense of colour and softness.
Installing an automated pop-up sprinkler system will solve this for you and will have some significant benefits. It's easier than you think to install one yourself, even if you haven't done it before and will most likely cost less than you might have thought. Some benefits include:
They can save you water. An automated tap timer will turn the watering on and off to a pre-set program. It's very easy to leave a sprinkler on accidentally, so a system like this prevents the water from staying on longer than necessary. There are timers around now that will connect to your smartphone and will turn your watering system off when it rains - how's that for water-saving tech!
They will save you time. An automated system does everything for you.
They do a great job of watering your lawn. Latest technology sprinklers like Hunter MP rotators and Rainbird R-Vans deliver water evenly and slowly and are very adjustable. These types of pop-ups ensure even and consistent watering.
Sprinkler systems are easy to install, even for a novice. If this sounds appealing, there are some simple steps to get the ball rolling, ready for next Spring:
Plan your system
Use our DIY irrigation planner tool to draw up and design your watering system. Our planner tool is for people who haven't installed a system before and will help you through every step of the way to:
Measure up the lawn area you want to irrigate
Draw the area on some graph paper
Measure some things like water flow
Design and quote
Our planner tool will help you to upload and submit your plan to us. From there, we'll:
Custom design a sprinkler system to fit your exact area
Quote the system for you so you'll know how much it will cost and which parts you'll need
Provide you with a plan to follow so that you know how to install it
Installation
Watch the video below for a step-by-step guide on installing a sprinkler system and discover how easy it is for yourself
To make things really easy, we've put a whole bunch of resources on our website to help you plan and install your system. Most of our irrigation customers have never installed a sprinkler system before and are pleasantly surprised at how straightforward it is. Give us a call at 8298 0555 or send an email to water@paulmunnsinstantlawn.com.au when you're ready to get started.